Red Edge 2017 71 Block Shiraz - 94 points

From some of the oldest (surviving) vines in Heathcote. Never irrigated. Two acres in size. Around 100 dozen produced.
It's a thick, velvety, concentrated shiraz with tar, sweet plum, mint and brandied chocolate flavours crooning through the palate. It feels just a little bit too warm to me but both the flavour and mouthfeel of this wine are quite exceptional. Seductive, it most certainly is. There's a clear note of sandalwood here, maybe whispers of sweet tea and coconut too, but the main impression is that this is a force to be reckoned with.

Rated : 94 Points
Tasted : Sep20
Alcohol : 14.6%
Price : $65
Closure : Screwcap
Drink : 2020 - 2030+
Red Edge 2016 Estate Shiraz - 93 points
It's been ten years between drinks of Red Edge Shiraz.
There's a whole lot of goodness on offer here. Spadefuls of choc-mint, warm plum, sweet cinnamon donuts, earth, coffee and leather. It's one of those wines that hits you up with bold flavour and then spreads out to all corners of your mouth. It's ripe, bold, warm and sweet-fruited but it has good persistence and indeed shape. In short: thoroughly satisfying.
Rated : 93 Points
Tasted : Sep20
Alcohol : 14.5%
Price : $40
Closure : Screwcap
Drink : 2020 - 2027+
Red Edge 2017 Cabernet Sauvignon - 92 points
Quality and value are in the buyer's favour here.
It offers substantial fruit flavour but it comes well polished and with just a little developed character too. It's good now and it will continue to be so for the next handful of years. Blackcurrant, bay leaf, sweet cedarwood and earth/sandalwood notes play happily through the palate. There's gum leaf here too. Tannin is firm without being excessively so. $25 well spent.
Rated : 92 Points
Tasted : Sep20
Alcohol : 14.2%
Price : $25
Closure : Screwcap
Drink : 2020 - 2025+
Reviewed by Campbell Mattinson
2017 Red Edge 71 Block
2015 Red Edge Estate Shiraz
2017 Red Edge Tinto Mezclado (Top Value) 
2016 Red Edge Estate Shiraz
2009 Red Edge LBV 
 Reviewed by Nick Butler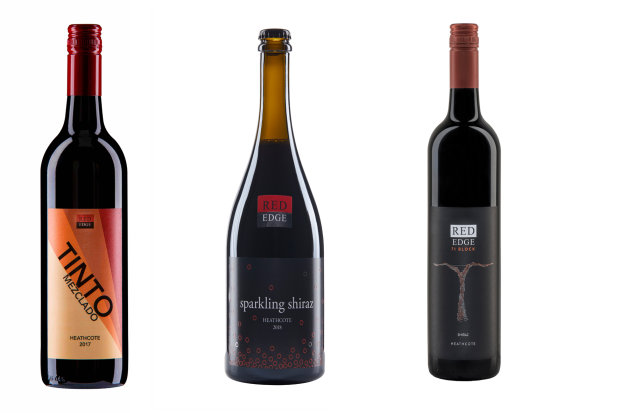 2017 Red Edge Tinto Mezclado 

This is pretty damn close to the wine I had in mind when I thought about planting my own vineyard in Heathcote 20 years ago. A robust blend of the Spanish red varieties tempranillo, monastrell, graciano and touriga, it has heaps of glossy black plum fruit, all wrapped up in spicy, perfumed, tangy tannins. Exactly the kind of wine you want on the table when someone's cooking paprika- and garlic-spiked lamb skewers.
Red Edge Sparkling Shiraz 
A new addition to the Red Edge line-up, and a welcome one. I really enjoy a good sparkling red – as long as it's not too sweet and has a decent savoury quality that helps it drink well with food – and this certainly fits that mould: perfume of ripe purple shiraz fruit lifted by sandalwood and sarsaparilla (both typical of Heathcote shiraz), supple, medium-bodied, satisfying on the tongue. Drink with chargrilled 'roo tacos. 
2016 Red Edge 71 Block Shiraz 

One of the things that fascinates me about old vines is that, despite the very low yields that come with age – intensified in this case by the fact that the vines are unirrigated – the wines they produce aren't always rich and powerful. This shiraz, made from vines heading for their sixth decade in the ground, is a great example: it has lovely, bright, fresh blackberry and mulberry fruit that floods the mouth with a pippy brightness that belies its great depth of flavour. Great now with rare porterhouse, but also well worth stashing some away in the cellar.
We kindly thank all reviewers for their time and opinions. For more information please subscribe to the reviewers publications in the links above